Get A Free Home Valuation Report - Find Out How Much Your Home Is Worth In Seconds
Are you considering putting your home up for sale or simply interested in your property value?
Look no further than our free 30 second home value report.
Choose whether you'd like to get a fully automated or a more detailed and accurate in-person report - completely up to you - but both available for free.
Get My Free Home Value Report
---
Get Award-Winning Real Estate Help
Our Agents and team have won multiple awards, including the prestigious 2018 President's Gold Award.
Take the guess-work out of getting your home valuation - we can help and provide you with award-winning real estate help.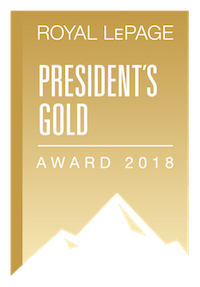 Get My Free Home Value Report
---
---
The Closest Thing To An Online Home Appraisal
- Get Your Free Property Value Estimate Today
Some companies may try to give you a sales pitch and try to get you to speak with a Realtor in order to get a home value.
Not us.
If you don't want to talk to a Realtor, that's completely fine - with our automated form, you will receive a home value report for only the cost of 30 seconds of your time.
Get A Quick & Easy Answer To The Question
How Much Is My House Worth
If you're considering your housing situation due to job changes, welcoming new family, looking at the costs of a reverse mortgage or just thinking about selling - then having an idea of your home's value can be very useful.
We can give you a free automated or in-person home value estimate - so that you can weigh your options with this important information.
Get My Free Property Value Report
"I used their automated home valuation service and was very happy what I got - was a much more accurate valuation and selling price than other Realtors in Toronto had given me."
For Home-Owners Only
- No Risk, No Obligation
If you are a buyer looking for a home valuation report on a potential property this is not for you - see our buying service that we offer instead.
But if you are a home-owner then our solution is perfect for you.
Similar To (But Not) An Online Home Appraisal
There is no such thing as an online home appraisal - however, our automatically generated valuation reports are about as close as you can get.
And given that they are entirely free of charge and free of risk, you've got nothing to lose.
No need to speak to a Realtor (unless you want to!)
Get Your Free Property Value Report
"It was a pleasure to deal with you - thanks for this service."
We Are Fully Licensed And Regulated
Our team is part of every major real estate organisation:
---
Our Free Home Value Estimator Is Available All Across Canada
We work with dozens of local Realtors and experts all across Canada - to help people find out their property value.
No matter where you are - from Ontario through to BC in the West or Newfoundland in the East - we've helped thousands of people across all of Canada get a idea of how much their house is worth.
Use Our Online Property Valuation Calculator Anywhere In Canada!
---
Frequently Asked Questions (FAQ)
Click on the question to reveal the answer.
We do not charge you anything at all. This home value calculator is completely free. You can choose to use one of our Realtors if you like, but there is no obligation. You can also choose to get a more detailed and free in-person valuation - again, there is no cost for this.
No, this free valuation report is intended for home-owners only. If you would like for us to fetch you some home valuation reports as a buyer please visit this page to see how you can work with one of our buying specialist Realtors - https://www.gtarealestatepros.ca/buying-a-home/.
No, a home appraisal is where a licensed appraiser visits your home and assesses the value. This is simply an automated report to give you an idea of your property value.It uses recent sales in your area - the same way a home appraisal would - but it doesn't go to the same depth (eg. a home appraisal would make adjustments for differences in the properties).
After filling out our application form - to give us the information we need - we run your home through an automated valuation service. It takes on average about an hour for us to do this. We then email you your report - completely free, no obligations at all.
Although we are based in Toronto, Ontario - we work with dozens of Real Estate Agents all across Canada - our house value calculator can be used by anyone in Canada. However, please note that the more rural the property, the less likely this automated valuation will work as there may not be enough recent comparable sales.
Yes, we are fully licensed and regulated ourselves. It is illegal for us to use or share your information for any other purposes.
This is an automated valuation, so is never going to be 100% accurate. It also should not replace a full valuation prepared by a licensed Realtor who knows your area well. We would be happy to put you in touch with a top local real estate agent - but only if you want. Having said that, you will get the comparable sales used to produce the valuation in the report and can decide for yourself if the amount is appropriate based on these.
As long as your property is located in an urban area, this will work. Our service was designed for people wondering how much is my property worth. However, if your property is custom built and not located in a urban, populated area, with recent sales then this will not work. Recent nearby sales are crucial for this to work.
Automated Or In Person - You Choose
You can decide if you'd like an automated report or someone to come visit you in-person to get a much more realistic valuation. Either way, all it takes is 30 seconds of your time.
Get My Free Home Valuation Report