Quickly & Easily Find A Great Royal LePage Realtor
Our free service matches you to a top Royal LePage local expert, in just 40 seconds.
As part of the largest Royal LePage office in Canada, we have access to the very best Realtors out there.
In just 40 seconds, we'll have you working with one of the best Agents in Canada.
Get My Top Royal LePage Realtor Today
---
Get Award-Winning Real Estate Help
Our Agents and team have won multiple awards, including the prestigious 2018 President's Gold Award.
Take the guess-work out of finding a great Realtor and get a trusted, proven and award-winning expert to help you buy or sell your next home.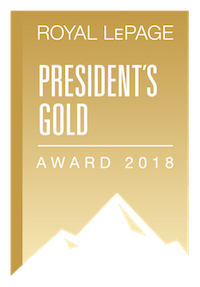 ---
---
Why Our Royal LePage Agents Are Different
- Our 10-10-10 Rule
All our Realtors have an average of 10 years of experience, have completed more than 10 deals and are in the top 10% in the whole of Canada* - we call this our 10-10-10 rule.
So, there is no need for you to spend days or weeks researching "who are the top Real Estate Agents", reading their reviews or interviewing dozens of agents - we have already done all this for you.
In addition to this, our Agents must be 5 star rated, MLS approved, use the latest technology and tools and all meet a minimum level of service or they are dropped from our database.
Get My Top Realtor Today
"It was a pleasure to deal with Royal LePage Signature Realty. My wife and I thank you for your patience, persistence and long hours put in on our behalf."
The #1 Royal LePage Office In Canada
As the #1 largest office Royal LePage office in Canada, we have access to some of the very best Real Estate Agents in the business.
So, sit back and relax – let us match you to a top Real Estate Agent who is the right fit for you, based upon your needs.
Again, our service is totally free and takes just 40 seconds.
Get My Top Realtor Today
---
A Top Royal LePage Realtor
Could Save You Thousands Of Dollars
In today's crazy housing market, you need a top Realtor by your side or you could end up losing thousands of dollars on your Real Estate deal.
However, finding the right Realtor is not always easy. Our free Realtor match service makes it easy.
We Have Access To The Largest
Royal LePage Office In Canada
We have interviewed, vetted, rated and reviewed over 400+ Realtors - to bring you the best out there.
And with just 40 seconds of your time, you'll let us know what you're looking for through our online application so that we can match you to a top Realtor.
We Make Finding Your Perfect
Royal LePage Realtor Easy
One of the many benefits of our free service is that we can search our database of hundreds of Royal LePage realtors in the blink of an eye to find someone who meets your needs.
"Does this search and matching me with a top Royal LePage Realtor cost me a lot?"
Absolutely not.
Our service is completely free. And all we need is 40 seconds of your time to give us some basic information that we can use to match you to the right Royal LePage Real Estate Agent.
Get My Top Realtor Today
"It was a pleasure to deal with you - thanks for this service."
We Have Access To The Very Best Royal LePage Agents Out There
If you're not careful, you could end up stuck with a Realtor who either is not experienced enough to meet your needs, or simply isn't interested.
This can potentially end up costing you thousands of dollars if they don't sell your home for the best price, or you can end up with a less than perfect home that wasn't what you were looking for at all.
Fortunately, we are able to not only find you one of the top Royal LePage Realtors in the GTA who have plenty of experience, but we can do so based on what you are looking for to further provide a more specialized service.
Our Realtor Match Service Is Completely Free
Our service is entirely free. We have a continuously updated database of GTA Realtors with Royal LePage Signature Realty who are ready to serve you best.
The question is: Why wouldn't you want to be matched with the right Realtor?
Get My Top Realtor Today
---
Serving All The GTA And Surrounding Areas
We're based in Toronto, but we serve all across the GTA and it's surrounding areas and work directly with the best local experts.
Check out the areas we serve for more information.
Getting expert local help is how you'll get an edge on the crazy Toronto real estate market.
In fact, we have now helped over 1,779 buyers and seller across the GTA find their perfect Realtor.
GTA Real Estate Pros
Royal LePage Signature Realty
Toronto Real Estate Agent
154 Bathurst St
Toronto
Ontario
M5V 2R3
Call us 24/7
Get A Top Real Estate Agent In Seconds
Don't risk buying or selling your next home with any old Real Estate Agent.
Get one of the best Royal LePage Agents out there - in just 40 seconds.
Get My Top Royal LePage Agent